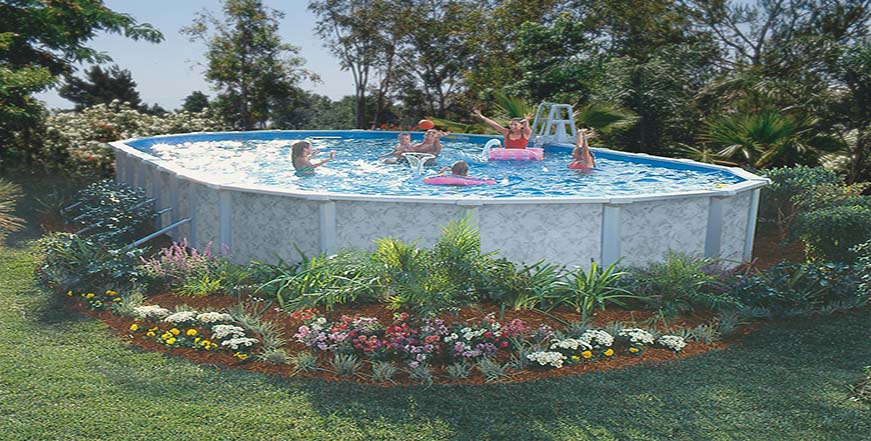 So you've made the choice to pursue an above-ground swimming pool.  You've found the most experienced above-ground pool dealers in the area! Oliver's Pool's and Spas promises our customers only the best above-ground pools in the industry.  We carry Wilbar above-ground pools with industry-leading technology matched by beautiful designs. We can provide the right pool for your yard so you can be swimming in a matter of days.
Round – 52″ height
Available is Sizes:  15′, 18′, 21′, 24′ & 27′
Oval – 52″ height
Available in sizes: 15'x30′ & 18'x33′
Features
8-inch Shadow grey steel-top ledge
Shadow grey steel uprights
Pepper grey high-impact resin ledge cover
All steel components protected with Tru-Kote bonding system
Stainless steel fasteners
Patented curved top ledge
Interlocking stabilizer system
Top ledges & uprights protected with multiple layers of protection
Leaves wall pattern
Easy to assemble
Space-saver system for oval pools

Enjoy your pool without losing your yard!
Available Impress Above Ground Pools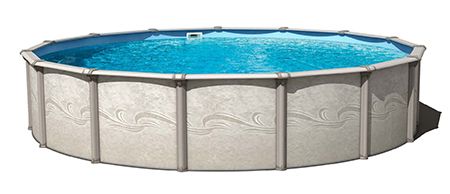 Round – 52″ height
Available sizes: 15′, 18′, 21′, 24′, & 27′
Features
7-inch multi-ribbed steel top ledges
Steel uprights with modern design & superior protection
Two-toned ledge cover made from reinforced composite polypropylene resin
Resin bottom plate with integrated foot cover for better fit
Dorado wall pattern-a pleasing look with the sand frame
Heavy corrugated wall with superior coatings
Easy to assemble
Yard extender system for oval pools

A series of practically invisible lateral supports placed in the ground, leaving more yard space.
Color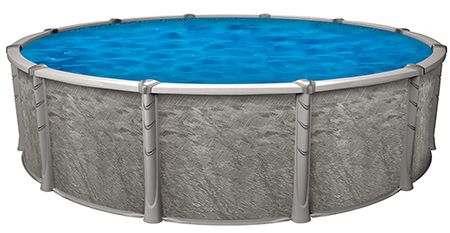 Round – 54″ height
Available sizes: 15′, 18′, 21′, 24′, & 27′
Oval – 54″ height
Available sizes: 15'x30′ & 18'x33′
Features
6-inch curved Talc-filled, injection-molded, resin top ledge
Talc-filled injection-molded resin uprights reinforced with embossed patterns
Two-tone ledge covers
Synflex resin bottom rails
Robust injection-molded resin structure
Vision wall pattern patented with resin shield
Heavy corrugated wall with superior coatings
Precision-adjusted components
Stainless steel hardware
All steel fully coated on both sides
Highest density resin used to protect warping and cracking
Easy to assemble
Space-saver system for oval pools

Enjoy your pool without losing your yard

SALT WATER COMPATIBLE